SellTower Signals
ITPT's VRE Tool is the Best I Have Seen
THE BEST REAL ESTATE GIS TOOL GOT BETTER!
After sitting through several real estate tool demo's in the last two years, I was convinced that Steven Scarcella's RE-View tool was as good as it could get.  Then Steven, COO of Integrated Telecom Property Technology (ITPT), showed me the updated version- the VRE (Virtual Real Estate) tool.
The VRE tool does not require a separate GIS license, includes several new telecom network data elements, and now covers 27 states…and counting.  Of course, the biggest benefit of VRE is that it includes both the standard GIS layers, and also the actual parcel boundaries for every property!  
Even the biggest providers of parcel data, often only have the location of the center point of a parcel despite charging premium amounts for their data.  ITPT chose to map the actual parcel boundaries in each market where possible.
Another useful update in VRE is that with a simple mouse hover over a
parcel, all of the data underlying that property and its structures – including the property tax data –  pops up.  Users can see who owns each parcel!  In most cases, VRE goes one step further and provides contact information for these parcel owners.
Parcel boundaries – plus the parcel's ownership – have been the missing element in  mapping tools that purport to enable "virtual site acquisition".  ITPT has already used VRE to identify potential parcels in a telecom carrier search ring that were missed by local site acquisition agents.  Of course, VRE will never replace the local presence necessary for Zoning and Permitting, but it makes site selection very efficient and accurate.
Looking at VRE's combination of property data and mapping functionality, I thought of several use cases – from virtual due diligence on property and asset acquisitions to fiber route planning.  Steven also demonstrated how VRE users can draw freeform routes and boundaries and create reports of each parcel impacted by the proposed fiber route or covered by a search ring.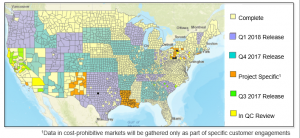 What about the 23 states not currently loaded in VRE?  ITPT will accelerate specific markets for subscribers, and is working to complete nationwide coverage early next year.
---
BOTTOM LINE –  If you are involved in network infrastructure assets or commercial real estate transactions, then VRE can give you an edge.
---
Of course, Steven Scarcella still provides best-in-class Title and Real Estate Due Diligence services through ITPT.  By using VRE, Steven can guarantee a two week turnaround time and 30% savings, compared typical Title providers.
Contact SellTower at sales@selltower.com to learn more!