SellTower Signals
The Shoe Just Dropped on Windstream…
Will The Other Shoe Drop on Uniti Group?
While most of the country enjoyed a three day weekend, the executive teams of Windstream and Uniti Group were scrambling to assess the damage of United States District Judge Jesse Furman's ruling in favor of Aurelius Capital against Windstream.
Having read and digested the entire 55 page court order – and several sometimes conflicting articles by various investment analysts – I am saving you time by providing the highlights of the ruling below followed by my Top 4 Insights & Observations From the Windstream Loss.
Quoting directly from the February 15 filing, here are the 9 points in the Court's judgement: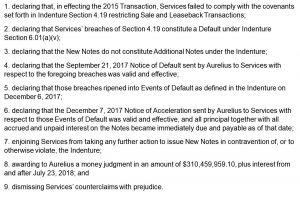 Top 4 Insights & Observations From The Windstream Loss
The ruling leaves important questions unanswered including:

The Final Settlement that Aurelius will request (due February 25) and ultimately receive
Actions to be taken by the other Windstream creditors impacted by the same bond issues
The impact, if any, on the Master Lease with Uniti Group

Bankruptcy is NOT a foregone conclusion for Windstream

Windstream states that they will appeal the ruling
Windstream may be able to pay the settlement given their recent sale of the residential service part of Earthlink for $330M and their $296M revolving line of credit.

Windstream will keep operating as usual – even if forced into (or willingly seeking) bankruptcy

Uniti continues to receive it rent payments from Windstream under the terms of the Master Lease.
There could be legal challenges to the Master Lease if Windstream does file reorganization under Chapter 11

Uniti Group is increasingly likely to cut its dividend even if the Master Lease is not challenged

The plan was for Windstream to win its case and the stock to bounce higher. Instead it dropped 30% in after hours trading.
The low stock price and high dividend yield make Uniti's cost of capital too high for it compete for acquisitions
The dividend can be cut almost in half without violating REIT rules
Thomas Dolislager is available for more substantial discussions. Contact SellTower Consulting at sales@selltower.com.